Ok, lets get back to work
It is behaving ok, including the hibernation and the resume. The UX is cooler than the time when Toshiba was mounted (the cpu is 2-3 degree C cooler now, in load state).
Before the MX Nano SSD , I've played with some CF / CF-ZIF adapters and because that, I had ready a ZIF-to-Sata adapter, so the Windows cloning was fast and easy. I used Arconis 2012 true image, trial.
The benches are near as the rest from the net (+/- 2-5mb/s) :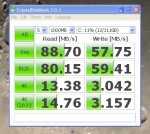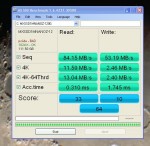 This is the old/original Toshiba, ready to be replaced: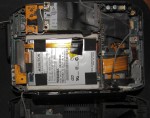 With this adapter (8$+2$ shipp/handl) I made the HDD partition backup on the desktop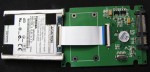 Please notice that the Mach Extreme SSD is mounted different than the Toshiba drive, it has the pin 1 on the other side of the ZIF connector, so it has to be mounted with the bottom up. The restore of the partition on the SSD was quick, 8 minutes for 12gb :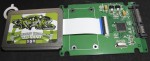 My only problem was when I had to secure the SSD/HDD cage, the ZIF connector was attached to the SSD in an angled mode, which you can see, it moved the SSD in place too(The SSD connector didn't want to align with the cable or vice versa). I let the old rubber white strips on the HDD, so the SSD is mounted metal on metal:
Hope to be of help to someone around here and, as a note, you can use a CF card in a CF to ZIF adapter, but it WILL be slow because the CF: 1.doesn't have cache memory like the actual SSDs and 2. doesn't handle small writes well at all. The "fixed mode" is a lottery, depending on the batch/mfg/model and a small workaround can be obtained using the win xp "hitachi microdrive" driver, to fool the xp in masking the removable drive. The "flashfire" ram cache driver could be used, but on a power loss, I lost my win XP because it corrupted a system file.